Bay's Labor Lost
By Jack Greer
Seafood processors now look to foreign seasonal workers to help fill the shrinking ranks of local oyster shuckers and crab pickers.
For workers from places like Mexico, where pay scales are low, traveling to the U.S. for part of the year to work in the seafood business is not a bad deal. They can make better money and then bring that money home.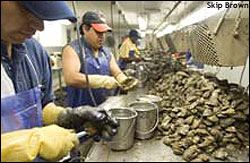 A win-win situation — except that the guest worker program has run into the controversy that surrounds U.S immigration policy.
The U.S. guest worker program falls under what's called the H-2B Work Visa. The U.S. Immigration Service created that visa mainly for non-agricultural jobs, in which U.S. workers are in short supply. It allows workers to come to the United States temporarily — and legally. One drawback: the program caps H-2B Visas at 66,000 nationwide each year.
While oyster plants can apply for workers at the beginning of the federal fiscal year, crab pickers are not so lucky. By the time the crab industry gets going in late spring and summer, other businesses have already scooped up most of the visas.
Crab processors like Jack Brooks, of J.M. Clayton Seafood in Cambridge, Maryland and Kevin Wade of J&W Seafood in Deltaville, Virginia took the issue to Congress. They found a sympathetic ear in Maryland Senator Barbara Mikulski and Virginia Senator John Warner. With their backing, Congress passed new rules that stagger the application allotment. Now one begins October 1 and the second April 1, so all the visas won't vanish at the start.
That helped, but the seafood processors still struggle, since applications quickly reach caps for both allotments.
Brooks and his colleagues went back to Congress. They argued that returning guest workers in good standing should be exempted from the cap. With the support of Senators Mikulski and Warner they won that argument, and language attached to a defense bill granted the exemption.
This meant that workers who'd mastered crab picking and oyster shucking — and who had proven themselves reliable — could return. It was a breakthrough for the processors and allowed them to build a workforce they could begin to depend on.
But this year that annual exemption failed to pass in the U.S. House of Representatives, and now processors once again find themselves facing the national cap.
The loss of the exemption came as a shock. According to Brooks, all of this year's visas for both the October 1 and April 1 start dates were taken well before the deadlines. Many processors, he says, including those in North Carolina and Virginia, got few guest workers — or none at all.
Why did the policy change? According to Brooks and Wade, the guest worker program has gotten tangled with the larger debate over immigration. Until the issue over illegal immigrants is settled, they say, political pressure hampers any expansion of the guest worker program.
This strikes Wade as unfair. "This isn't an immigration" issue," he says. "They [the guest workers] don't want to stay here."
Resource economist Doug Lipton at the University of Maryland agrees that the guest worker issue is a major one for the industry. He says that most of Maryland's crabmeat, worth some $20-35 million a year, is picked in traditional plants. Nearly 80 percent of Maryland's 15 to 20 crab plants rely on seasonal workers to pick that crabmeat, he says.
Lipton has also reached a remarkable conclusion. "We've calculated that for every seasonal worker in the seafood industry, 2.5 jobs are created in the state of Maryland," he says. According to Lipton, these guest workers are not taking American jobs. They are creating them.