Saving (Working) Skipjacks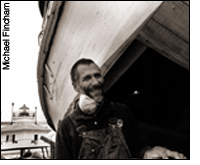 By Michael Fincham
A book called Chesapeake first brought Mike Vlahovich to the tidewater region. And a boat called skipjack brought him back.
In the early 1980s, Vlahovich read James Michener's best-selling novel and started looking for a job in a tidewater boatyard. As a west coast salmon-fisherman-turned-boat carpenter, Vlahovich had already seen one historic fishery sink, taking with it a lot of boats and captains and working waterfront. He soon found work as a carpenter foreman in a boatyard near Reedville, Virginia, beginning a back-and-forth-again career working with the boats and yards and people in the Bay's historic fisheries for blue crabs and oysters.
On his west coast sojourns, he kept trying to save old salmon boats - but with minor success. "I was growing frustrated trying to make a similar program happen on the west coast," he says. "So when I heard there was a program over here already funded, it was perfect for me."
Fishermen and boat builders are clearly risk takers - and so are some museum directors. When Maryland assembled a task force in 1999 to find a way to save the state's decaying skipjacks, John Valliant came up with a plan to turn his Chesapeake Bay Maritime Museum into a center for repairing old skipjacks and training new boat carpenters. That was the perfect job Vlahovich was looking for. In 2001, the Skipjack Restoration Project was launched with high hopes, $150,000 in first-year funding, and Vlahovich at the helm.
There were, of course, some big risks buried below decks: old boats can become sinkholes for money and state funding can suddenly shrink. The first repair job brought the museum its first crisis: costs on the City of Crisfield ran high. And its second year brought its second crisis: state funding dropped by two thirds.
Both crises, however, brought the same response: Valliant and the museum's Board of Directors decided to keep working on skipjacks. "This is a project that we feel very strongly about." says Valliant. "It fits into our mission, and we are committed to finding the funds to keep this program on track."
The museum scraped through the first two years by raising money from foundations and individuals and by re-allocating some of its operating funds. Like a skipjack captain tacking across an overfished oyster rock, Valliant knows the museum won't be hauling in a lot of state dollars during the current budget crunch. Like all watermen, he thinks he'll do better next season.
The payoffs have been worth the risks. The apprenticeship program has been drawing skilled and experienced applicants. Six skipjacks so far have come in for major repairs and long-deferred maintenance. The museum is building stronger ties with watermen communities around the Bay. And best of all, the public can now find at the museum an unusual interactive exhibit: a traditional working Bayside boatyard - but one where anyone can walk in, watch, ask questions and learn how these historic sailboats were built and rebuilt again.
For Valliant, the museum captain, skipjack restoration will be a rough sail for a while - but still worth the ride. "It was a gleam in our eye, then all of a sudden it was a reality. And then it was like, 'Oh my god, what have we gotten into,'" he says. "Now it's: 'Wow! It's really working.'"
For Vlahovich, the quiet-spoken boat builder from the west coast, the payoff is personal: "I'm a dreamer, but I really believe the efforts of this program - if we succeed in doing restorations on the entire fleet - are going to speak really loudly. "And hopefully," he says, "it will be a model for other coastal communities to do the same."