NEWS & VIEWS
Maryland Sea Grant Celebrates 25th Year
This year the Maryland Sea Grant College is celebrating 25 years of research, education and outreach focused on coastal issues, and especially the Chesapeake Bay. Established on the College Park Campus in 1977, Sea Grant has supported marine-related science and education throughout the University System of Maryland and beyond. In 1982, the U.S. Secretary of Commerce, in accordance with the National Sea Grant College Program Act, named the University of Maryland a Sea Grant College, in recognition of its outstanding programs in marine-related research, education and outreach.
One of thirty such marine programs around the country, Maryland Sea Grant helps to draw the very best academic talent to issues of critical importance to those who live, work and play in the Chesapeake watershed and along the coast. In so doing, Sea Grant has helped to serve as a bridge between the public and the intellectual resources available throughout the university community. Maryland Sea Grant is administered by the University of Maryland Center for Environmental Science, the University's premier system of marine and environmental laboratories, in partnership with the University of Maryland College Park and the University System of Maryland. The program serves academic and research institutions statewide.
During its 25-year history, Maryland Sea Grant has funded groundbreaking work on the mechanisms that support living resources in the Chesapeake Bay, including the study of food web dynamics, dissolved oxygen processes and the movement of nutrients through the ecosystem. Of equal significance, Sea Grant has supported critical research on the Chesapeake's commercially important fish and shellfish, especially oysters, blue crabs and striped bass. The program has served as a catalyst for the development of innovative new technologies, ranging from biotechnology to aquaculture.
Linked to the research program, Maryland Sea Grant has forged a strong partnership with University of Maryland Extension and various research laboratories to provide Sea Grant Extension programming to constituents statewide. Innovative programs in aquaculture, seafood technology, water quality and marine education form a tangible bridge between the resources the University provides and the constituencies it serves.
In addition, Maryland Sea Grant's outreach effort includes an extensive communications program that produces a wide range of products for various audiences. These include technical information such as reprints of peer-reviewed journal articles, scientific syntheses and book-length works to a number of award-winning videos and popular educational materials. Science documentaries such as Chesapeake: The Twilight Estuary have become classics in their own right, and are used by schools to teach the fundamentals of Bay ecology. Maryland Sea Grant has also published important texts including The Eastern Oyster and Oxygen Dynamics in the Chesapeake Bay - both are considered definitive references.
Popular books such as Working the Chesapeake or A Bayside Guide to Weather help describe how watermen still make a living from the water, drawing on generations of experience, and how weather shapes our seasonal activities on the Bay. Through fact sheets, educational briefs, web sites and newsletters such as Maryland Marine Notes - and now Chesapeake Quarterly - Maryland Sea Grant continues to provide useful information on marine science and policy to a broad and sophisticated audience.
In the years ahead Maryland Sea Grant will pursue its role as both a catalyst for new thinking and a connection among diverse stakeholders. Sea Grant's focus will remain squarely on issues central to the health, protection and wise use of Maryland's coastal waters.
NOAA Awards Funds to Maryland Sea Grant
The University of Maryland Sea Grant College received a $1.4 million award for February 2002 to January 2003 from the National Oceanic and Atmospheric Administration to support scientific research and education focused on the Chesapeake Bay.
Together with $800,000 in matching funds from the state of Maryland, Maryland Sea Grant will support forward-thinking Chesapeake Bay research, outreach and education projects throughout the state.
"This year," says Sea Grant director Jonathan Kramer, "we are supporting eight major research projects that address critical issues in the Chesapeake, namely the rebuilding of oyster reefs, the rehabilitation of underwater grasses, the protection of blue crab populations and improving water quality. These projects will go a long way toward helping management agencies and others as they work to reverse the declines we have seen over the last several decades."
For a list of research projects funded by Maryland Sea Grant, visit the web at www.mdsg.umd.edu/Research/current.html or call the College Park office at 301.405.6371.
Remote Sensing in the Chesapeake Bay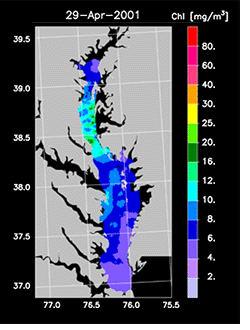 Maryland Sea Grant helped initiate a program in partnership with the NOAA Chesapeake Bay Office and NASA Goddard Space Flight Center to use new technologies in studying Chesapeake Bay. This program, entitled the Chesapeake Bay Remote Sensing Program (CBRSP), measures "ocean color" using airborne instruments mounted on light aircraft to estimate chlorophyll concentrations in the Bay. Chlorophyll is a photosynthetic pigment common to microscopic algae - phytoplankton - the main primary producers that comprise the base of the food web in the Bay. This important pigment imparts color to the water. Clear blue water has low chlorophyll and reflects strongly at low wavelengths in the visible spectrum, whereas green water has higher chlorophyll and absorbs strongly in the blue, reflecting light at longer wavelengths.

Data are collected using airborne radiometers that measure reflected light and concentrations of chlorophyll. This key property is one of the main ingredients necessary for estimating primary productivity and gauging the overall productivity of the ecosystem at higher trophic levels.

CBRSP provides a web site at www.cbrsp.org that makes data available from over 300 flights on the main stem of Chesapeake Bay conducted between 1989 and 2002 and gives other information about the program and related studies on Bay tributaries sponsored by EPA and NASA. These data have been used for a variety of purposes including basic science, management, education and outreach.


Maryland Sea Grant Celebrates 25th Year NOAA Awards Funds to Maryland Sea Grant Remote Sensing in the Chesapeake Bay Summer Fellowships for Teachers
Supported by a grant from the National Oceanic and Atmospheric Administration's Chesapeake Bay Office, Maryland Sea Grant and the University of Maryland Center for Environmental Science are providing summer fellowships for middle and high school teachers in the Chesapeake Bay watershed. Ten teachers will work directly with scientists in one of four environmental laboratories: the Chesapeake Biological Laboratory, the Horn Point Laboratory, the Appalachian Laboratory (all UMCES) and the Center of Marine Biotechnology (University of Maryland Biotechnology Institute).
In addition to their laboratory experience, the teachers will work with Sea Grant educators to put science journals and Bay-related lesson plans on the web for use by other teachers in the region. Participating teachers will also share their ideas at the fall meeting of the Mid-Atlantic Marine Educators Association at the Virginia Institute of Marine Science.
The fellowships form part of a larger NOAA-funded Bay education effort that is supporting teacher training, workshops and seminars in cooperation with the Sea Grant programs of Virginia, Maryland, Delaware and Pennsylvania. NOAA is also requesting proposals for additional work by nonprofits and other educational organizations to provide meaningful Bay experiences for students and children throughout the watershed. For more information contact Ms. Seaberry Nachbar at the NOAA Annapolis office: 410.267.5664. For more information on the Sea Grant fellowship program visit the web at: www.mdsg.umd.edu/Education/teachers.html.
Saving Trees
When planning Chesapeake Quaterly, we knew we wanted a quality publication. Key to that is choosing good paper. Equally important to us in choosing paper is saving trees and protecting the environment. We were happy to learn that it's cheaper and easier than ever to get good quality recycled paper - the one this magazine is printed on is a coated, 100% recycled sheet (with 50% post-consumer waste), processed chlorine free and affordable. According to Utne Reader, fewer than 5% of magazine publishers use recycled papers and environmentally responsible practices. Without sufficient demand, they say, mills will stop making such papers. To encourage its use, they joined several nonprofit organizations to form the Magazine Paper Project as a resource for publishers. Staff will provide free technical assistance to help find the right printer, the right paper and the right price for a job. For more information, call 415.643.4401 or visit the web at www.EcoPaperAction.org.
Moving Day
At the end of June 2002, Maryland Sea Grant will move its offices to new quarters just off campus at 5824 University Reasearch Court, Suite 1350, College Park, Maryland 20740, phone (301) 405-7500, fax (301) 314-5780.