Renewing an
Urban Watershed
Contents
The children of Franklin Square Elementary Middle School helped design and plant the flowering "reading circle" that stands in the middle of their schoolyard. This island of green led to the removal of more than an acre of asphalt from the schoolyard. Photograph by Skip Brown.
Power of Green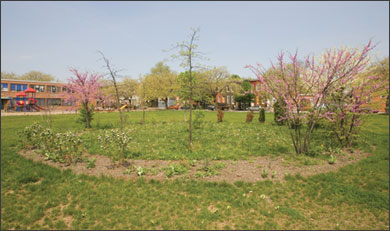 If you believe in green, a little bit can go a long way.
In 2005, the city of Silver Spring, Maryland, tore down a parking lot in the downtown area, leaving an unsightly heap of dirt in the center of the business district, where the new civic center would soon be built. That summer, while plans for the proposed Veteran's Plaza were being finalized, the Montgomery County Department of Public Works and Transportation needed a quick way to create public space for upcoming events. They arrived at a temporary solution. Put Astroturf — SoftLawn, to be exact — down over the dirt. Overnight, a new town square was born.
It's green space, but it's not even real grass. Vacuum cleaners, not lawn mowers take charge of its upkeep. The "Turf" becomes a sodden sponge when it rains. It has no bioretentive qualities and probably doesn't help much with stormwater management.
But Silver Spring was so hungry for green that all it took was a 35,000-square-foot swatch of artificial turf, some security lights, and evening patrols to bring toddlers and teenagers to the same hangout, to gin up impromptu picnics and raucous Frisbee games, to bring a seasonal farmer's market to the town center, and to draw a world-class jazz festival in the summer.
The Turf in Silver Spring was never meant to be a permanent feature of the downtown. Now three years later, the long-awaited construction of Veteran's Plaza and Civic Building is scheduled to begin this summer. And although the design plans promise plenty of green space — real grass and trees — many residents are loudly protesting the impending loss of the green carpet.
All of this in a county with some of the best parks in Maryland. Just over a mile from downtown Silver Spring, Sligo Creek runs into the Northwest Branch of the Anacostia River. With it comes 13 miles of multi-use trail. The nearby Rachel Carson Greenway, which is now almost complete, spans Montgomery and Prince George's counties with nearly 25 miles of creek-lined trails. On those trails in the spring, I've watched families of frogs and tadpoles in vernal ponds. I've seen foxes, deer, and hawks.
Green has the power to transform the health of the environment and to build community. At least that's the idea.
So if a square of artificial turf could bring so much community to a county already rich with green spaces, what could grass and trees do for an ultra-urban watershed in Baltimore — one where all the streams are buried below ground, where there's no urban forest, no foxes, no deer — a place where pavement encases more than 75 percent of its surface area?
It's an experiment in progress in a 72-block area of West Baltimore that encompasses twelve neighborhoods — an area defined as a watershed by the network of storm drains that carry runoff beneath the streets. Dedicated people are working to build a network of green through gray streets — ripping up schoolyard asphalt, planting trees, and cultivating rain gardens.
The hope is that less asphalt will improve the quality of water that flows through these urban storm drains. Gardens and greenways will bring people together to tend to the health of their local environment.
Whether this experiment will work remains to be seen. West Baltimore lacks the surfeit of riches, ecological and otherwise, that Montgomery County claims. But those working to green this troubled watershed possess a rare determination — their stories reflect the connection of person to place, of human and ecological resilience intertwined.
These people — community volunteers, nonprofit leaders, public servants, and scientists — are working to combat real financial, social, and ecological obstacles in this West Baltimore watershed. They believe in the power of green. Isn't that a good place to start?
— Erica Goldman