Food Scientist Works to Sharpen Crab's Competitive Edge
By Erica Goldman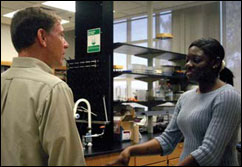 Planning to debut their products

at the Boston Seafood Show next year, seafood technology specialist Tom Rippen and his technician Loretta Katsriku discuss possible markets for restructured crabmeat. Their product, made from crab picked from the central body cavity, adds market value to a part of the crab that commands a lower price than jumbo lump. Rippen is also working to update the look of pasteurized crabmeat on grocery store shelves. He's developing a sleek vacuum-sealed container (bottom photograph, middle), that he asserts will look more appealing and retain freshness as well, if not better, than cans.
Photographs by Erica Goldman.
From his lab in the Food Science and Technology Department at the University of Maryland Eastern Shore in Princess Anne, Tom Rippen works multiple angles of innovation to help the crab industry. Adapting to forces of change is the key to keeping Maryland crabs competitive in today's economic climate, he says. And that adaptation needs to happen on many fronts.
For example, Rippen's led the Maryland Crabmeat Quality Assurance Program for 12 years, which has dramatically decreased the risks of food-borne illnesses from crab products, helping to preserve the high profile of Maryland crabmeat on the global market. He also works on product development and package design, looking for new market niches for the Maryland crab industry.
Rippen never suspected that he'd follow in the footsteps of his father, a faculty member at Michigan State, with an expertise in food science and dairy processing. But he loves what he does. He's a rare individual — one who can describe the smell of his home state's Great Lakes whitefish as "sweet musk melon." For Rippen, commercial seafood proved the perfect way to combine his interest in fish and fisheries with his desire to help the seafood industry.
Rippen is currently excited about a new product — "restructured" crabmeat. While jumbo lump crabmeat can command $17 or more per pound on the wholesale market, flake or "special," as it is most commonly known, yields only $6. Special crabmeat comes from the central body cavity, where the crab's legs attach. Although the meat tastes just as sweet, says Rippen, the pieces are fine and thready because they're hard to separate from all the shell in that area. Special crabmeat is used most often in crab soup.
The idea: add value to special crabmeat by restructuring it into a piece that resembles jumbo lump, using minced crab as binder. Picture surimi, ground fish that has been reformed into a faux crab stick, but this product is 100 percent pure crabmeat. Rippen and his technician and former graduate student, Loretta Katsriku, have worked on this for two years, and they plan to debut the product with the seafood industry at the Boston Seafood Show, along with a new package design, next year.
Projects like this one, says Rippen, reflect the fact that we are in a new management age. "Commercial availability of crabs is limited. We need to maximize use of that resource, add value, and support the industry," he says.
The restructured crabmeat has an excellent taste, according to Katsriku, and she thinks this product could literally give jumbo lump a run for the money.
One hiccup: a similar product is now coming down the pipeline from Indonesia. The foreign product uses a hand-lay mold that makes the crab look just like jumbo lump, a very labor-intensive proposition that involves trimming each piece of restructured crabmeat by hand. And since labor costs are much higher here, this is not something that Rippen's approach could emulate. So the team will look for other niches for their product, like prepared appetizers of other shapes, which do not rely as much on the jumbo lump "look."