Eat This Fish, Not That Fish
The Evolution of a Movement
By Jessica Smits
A decade ago, when small tent cards started disappearing off the Monterey Bay Aquarium's café tabletops, the staff knew they were on to something. The coveted item: a list of recommendations on environmentally friendly, and not-so friendly seafood developed in response to an exhibit called "Fishing for Solutions." The popularity of the café display sparked the creation of the aquarium's Seafood Watch Program and the formal distribution of seafood pocket guides — the business-card-sized icon of what has become known as the sustainable seafood movement.
The movement planted its roots in the late 1980s when advocacy group Earth Island Institute implored consumers to boycott tuna in response to the common practice of setting nets around dolphins feeding on the fish. Inspiring the dolphin-safe label on canned tuna, the boycott served as the first indication that consumer demand could effect a real sea change. Subsequent campaigns by other environmental groups — including "Give Swordfish a Break" in 1998 and "Take a Pass on Chilean Sea Bass" in 2002 — built on the tuna boycott's famed success and took it one step further.
These campaigns courted chefs to take on their cause. With the majority of seafood in America consumed in restaurants, chefs play the role of "gatekeepers," influencing what is, and isn't, available to eat. Hundreds of chefs from restaurants across the nation pledged to remove the "unsustainable" species from their menus. Many environmental groups single out the swordfish campaign as especially effective, claiming that the boycott spurred stronger laws and closures of swordfish nursery areas which helped to rebuild stocks back to a sustainable level.
Armed with their pocket guides, the Seafood Watch Program also began working with chefs as well as individual consumers to suggest not only species to avoid buying, but also those to buy — species they considered "Best Choices," green on the guide's stoplight sustainability scale. The idea, says Seafood Watch program manager Jennifer Dianto, is that "if we can get a significant demand for sustainable seafood, then we give fishermen and fish farmers a financial incentive to shift towards more environmentally responsible practices." Several other organizations, most notably nonprofits Blue Ocean Institute and Environmental Defense, issue similar fish guides with nearly identical recommendations. In 2007 both Seafood Watch and Blue Ocean Institute expanded the digital reach of their lists, Seafood Watch making them available via mobile phone internet connections and Blue Ocean Institute through text messaging.
Having captured the attention of concerned chefs and discerning diners, Dianto says the movement is now reaching an even broader audience through its work with large-scale seafood buyers. The boycott campaigns and seafood guides have softened the market she says, and now the food service industry and major retailers are coming on board and shifting buying practices.
A recent article in Seafood Business, a seafood trade journal, details just how involved the industry has become. The article, entitled "Tipping Point," reports that since March 2006, Compass Group, the largest contract food-service company in the United States, has switched over 550,000 pounds of seafood from threatened fisheries to sustainable ones using the Seafood Watch list as a guide. Darden Restaurants, owner of several establishments including Red Lobster and Olive Garden, has stopped purchasing several "problem species." And northeast powerhouse Wegmans Food Markets has announced it will purchase only farmed shrimp that has met standards developed by Environmental Defense. The standards are based on guidance from the Consortium on Shrimp Farming and the Environment, a group which includes the United Nations' Food and Agriculture Organization (FAO), the World Bank, and the World Wildlife Fund.
But the announcement that has garnered the most buzz is Wal-Mart's promise to source all its wild seafood from fisheries certified as sustainable by the Marine Stewardship Council (MSC) by 2011. If a fishery successfully completes MSC's voluntary, but rigorous, certification process, it earns the right to display an MSC eco-label on its products in the marketplace. Founded in 1997, MSC compares wild-capture fisheries to a set of criteria based on the FAO's Code of Conduct for Responsible Fisheries.
Over two dozen fisheries from around the world have been certified by MSC with dozens more currently under assessment, including Maryland striped bass. Harley Speir, a fisheries biologist with the Maryland Department of Natural Resources (MDNR) says the interest of big buyers like Wal-Mart in MSC-certified seafood is one reason MDNR is pursuing striped bass certification. He expects the multi-step process to be complete by the end of 2008, and if successful, MSC-labeled striped bass should hit the market in 2009. Speir says the label could heighten demand for striped bass and increase what local watermen get paid for the fish, a potential economic boost to Maryland. In addition to Wal-Mart, the last several years have seen a proliferation of retail outlets offering MSC-labeled products, including Whole Foods Market, Safeway, Costco, and Target.
From boycotts, to lists, to labels, what's the force of the sustainable seafood wave in the Chesapeake region? The consensus seems to be: moderate, but growing.
Representatives from the two main seafood counters at Baltimore's Cross Street Market say customers rarely inquire about the sustainability of the seafood they buy. They primarily ask about three things, says Louis Chagouris, owner of B & A Quality Seafood, a three-generation institution in the Market. "Whether it's fresh, whether it's wild or farmed, and how to cook it." Across the Inner Harbor at upscale chain grocer Whole Foods Market, despite a decidedly food savvy clientele, the fishmonger tells a similar story. Although they do sell MSC-labeled products like Alaskan salmon and Pacific halibut, he says few customers ask specifically for certified seafood.
Noreen Eberly, director of the Maryland Department of Agriculture's Seafood Marketing Program says that aside from special niche markets, the sustainable seafood movement has not yet taken hold in Maryland. "The average consumer going to the grocery store down the street doesn't focus on it."
But those involved in the movement say even the small percentage of sustainability-conscious consumers has affected the market for seafood. Carl Safina, president of Blue Ocean Institute, notes, "It's not an election." There doesn't need to be a majority to make a difference, he says. And as several new area restaurants vow to serve only sustainable seafood (Hook and BlackSalt in Washington, D.C., Woodberry Kitchen and The Dogwood in Baltimore), and as retail outlets from Wal-Mart to Wegmans increasingly recognize that promoting sustainable fisheries makes not only environmental, but business sense, the burden could shift away from consumers. There could come a day when seafood pocket guides become obsolete — if it's available, it's sustainable. We're not there yet.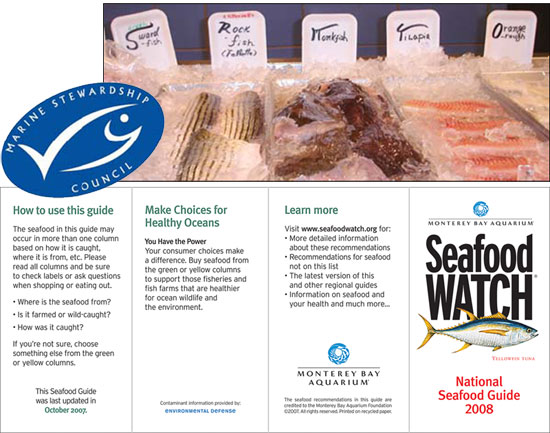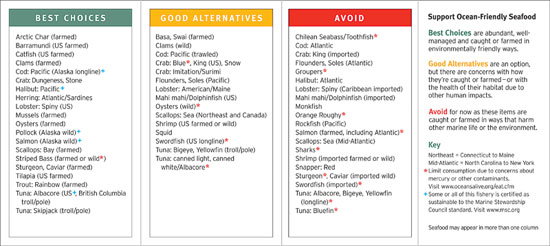 Species on display at one Baltimore seafood market

(top right) run the gamut on the Seafood Watch Program's National Seafood Guide sustainability scale (bottom). The guide's verdict: monkfish and orange roughy — red (avoid); swordfish — yellow (good alternative); rockfish (striped bass) and tilapia — green (best choice). The guide also addresses seafood contaminants. For information on how Bay species stack up on the contaminant question, see Chesapeake Quarterly Online, www.mdsg.umd.edu/CQ/seafood. Maryland's striped bass fishery is undergoing assessment by the Marine Stewardship Council. If certified, striped bass may bear the MSC logo (top left, courtesy of the Marine Stewardship Council) in the marketplace, an indication to consumers that the fishery is sustainable.
Photograph of fish on ice by Jessica Smits. National Seafood Guide pamphlet courtesy of the Seafood Watch Program.