Summer Students on the Chesapeake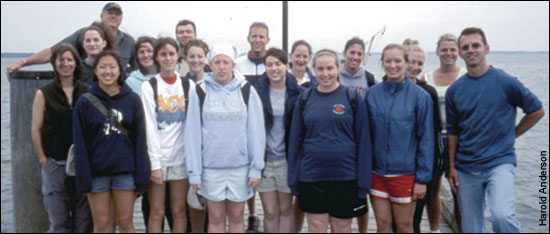 Undergrads Sample Scientific Waters

By Erica Goldman

The summer of 2004 marked the 16th time that college students from around the country journeyed to labs at the University of Maryland Center for Environmental Science (UMCES) to work alongside marine scientists.

As part of the Research Experience for Undergraduates (REU), a Maryland Sea Grant program funded by a grant from the National Science Foundation, fourteen students paired with faculty mentors at Horn Point Laboratory (HPL) in Cambridge and Chesapeake Biological Laboratory (CBL) in Solomons for a 12-week taste of academic research. Over the summer, students worked with advisors to complete projects in fields ranging from fisheries to physical oceanography. At the end, they presented their results in a symposium and wrote papers that synthesized their findings.

REU students also participated in special programs focused on communication, careers and ethics. Another highlight was the chance to get together with students from the Multicultural Students at Sea Together (MAST) program, run by Hampton University in Virginia, whose sailboat anchored at HPL and CBL during the program's three-week voyage up the Chesapeake.

Preparations for the REU program's 17th summer are currently underway, with student applications due on February 8, 2005. Please visit the web at www.mdsg.umd.edu/programs/research/reu/ for details. Contact Fredrika Moser (moser@mdsg.umd.edu) with questions.

2004 REU Students and Their Projects
Nicole Abel, Gannon University, Erie, Pennsylvania – Spatial Variability in Larval White Perch,

Morone Americana

, Diet and Growth in the Upper Chesapeake Bay. Advisor: Dr. Ed Houde, CBL.
Barbara Beckingham, Hobart & William Smith, Geneva, New York – Nitrogen Cycling and Redox Transitions across the Pycnocline in Chesapeake Bay. Advisor: Dr. Jeffrey Cornwell, HPL.
Mitchell Buck, Johns Hopkins University, Baltimore, Maryland – Analysis of a Community Model for Chesapeake Bay: Annual Variations and Comparisons with Field Data. Advisor: Dr. Ming Li, HPL.
Cory Catts, University of Florida, Gainesville – Microzooplankton Grazing Influence on Bloom Dynamics of

Prorocentrum minimum

and

Karlodinium micrum

. Advisor: Dr. Walter Boynton, CBL.
Amanda Ellis, Virginia Tech, Blacksburg, Virginia – The Effects of Copper on Extractable Lipofuscin and Oxidative Stress in the Blue Crab,

Callinectes sapidus

. Advisor: Dr. Rodger Harvey, CBL.
Jenna Gustafsson, University of Minnesota, Morris – Factors Contributing to the Methylation of Mercury in Maryland Reservoirs. Advisor: Dr. Rob Mason, CBL.
Catherine Haberkorn, McGill University, Montreal, Canada – Effects of Wind Mixing on Dissolved Oxygen Depletion and Estuarine Circulation in Chesapeake Bay. Advisor: Dr. Bill Boicourt, HPL.
Jennifer Hurt, University of Wisconsin, Stevens Point, WI – Bioenergetics of Striped Bass and Weakfish in the Chesapeake Bay: Is Prey Limiting? Advisor: Dr. Tom Miller, CBL.
Barbara Jacobson, University of North Carolina at Pembroke – Nutrient Cycling and Biogeochemistry of Sediments Inhabited by Two Contrasting Submersed Plant Species. Advisor: Dr. Michael Kemp, HPL.
Rachel Leigh, Oxford College of Emory University, Oxford, Georgia – The Environmental Control of Toxicity in

Prorocentrum minimum

. Advisor: Dr. Allen Place, Center of Marine Biotechnology, UMBI.
Sarah Marnell, Spring Hill College, Mobile, Alabama – Nutrient Uptake Potential of Four Freshwater Ornamental Plants. Advisor: Dr. Andy Lazur, HPL.
Tracey Myers, Youngstown State University, Youngstown, Ohio – Total Ammonia Flux Measurements at the Air-Water Interface on Chesapeake Bay. Advisor: Dr. Ron Siefert, CBL.
Julie Palakovich, Boston University, Massachusetts – Effect of a Restored Oyster Reef on Water Quality in Chesapeake Bay. Advisor: Dr. Mike Roman, HPL.
Cherie Peranteau, The Richard Stockton College of New Jersey, Pomona – Estuarine Bacterioplankton Metabolism and Diversity across a Seasonal Oxygen Gradient. Advisor: Dr. Byron Crump, HPL.