PROFILE
An Anthropologist's Journey
By Jack Greer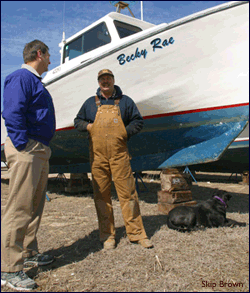 Paolisso talks to David Horseman

as he takes a break from working on his boat.
Born on a farm in Indiana, Michael Paolisso soon moved to Southern California, where he grew up - about as far from the Chesapeake as one can get in the continental United States. Though originally heading for law school, Paolisso found his interests gravitating toward the study of people and their behavior. Above all, he wanted to study people who work directly with nature, like farmers and fishermen.
"I find them very courageous," says Paolisso, who admires the ability of farmers and fishermen to live by their wits in the midst of considerable uncertainty.
After receiving his doctorate from the University of California-Los Angeles (UCLA), the young anthropologist's early work took him to East Africa, Nepal and Latin America. In Honduras, for example, he studied the interplay between gender and the use of natural resources, focusing on the role of women, often in the context of significant environmental degradation. After academic appointments at Smith College, George Washington University, and the International Center for Research on Women, he arrived at the University of Maryland College Park in 1997.
For someone interested in studying fishermen and farmers, 1997 turned out to be a particularly significant year in Chesapeake Bay country - during that August fish kills and human health problems, especially among some watermen, brought headlines announcing a novel marine dinoflagellate called Pfiesteria. Soon a firestorm of controversy broke out between scientists, between watermen and farmers, between state agencies and environmentalists. Paolisso and Erve Chambers, now chair of the Anthropology Department at College Park, could see immediately that "people were coming to this debate with very different perceptions, very different cultural models."
Paolisso saw a special opportunity - he wanted to know what those "cultural models" were.
"We came to Somerset County, because that's where the poultry farms are," he says. Those poultry operations were suspected contributors to over-nutrification, and therefore, the theory went, potentially to the emergence of Pfiesteria. And so it was Pfiesteria and its possible connection to phosphorus from poultry waste that initially brought Paolisso to Maryland's lower Eastern Shore.
Much of his initial work, funded by the National Science Foundation, focused on farmers, and then on the differences between farmers, fishermen and environmental professionals. His research team surveyed a range of individuals from each group, examining how they reacted to such terms as "pollution" or "government" or "nutrients."
"Because we wanted to work with watermen as well as farmers, we drove down to Deal Island," Paolisso says. In 1998 the anthropologists rented a small house on the road between Princess Anne and Deal Island; then in 2000 they moved into a rented house on Deal Island proper. When Paolisso attended a Lion's Club meeting in Chance, he met David Horseman, Roy Ford and others. Paolisso had begun to develop a keen interest in the watermen's community there, and that interest has continued to grow.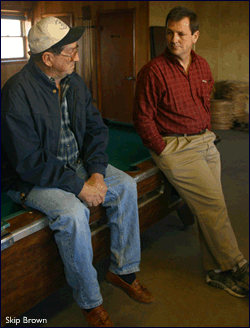 Sharing a quiet moment

in the back of Arby's General Store, waterman Ted Webster and anthropologist Michael Paolisso seem to ponder the challenge before them. Can those who work the water and those who study and manage the Bay's fisheries find their way to a common language and a deeper understanding of the shared values that join them?
Blue crabs, he found, were a very hot topic, especially with new regulations looming on the horizon. The watermen peppered him with theories, opinions and prognostications. He realized at once that blue crabs would provide him a valuable window into perceptions of environmental issues and into an understanding of the differing cultural models each group brings to those issues.
Paolisso then focused his efforts more squarely on the Chesapeake Bay blue crab and the watermen of Deal Island.
The first waterman to take Paolisso aboard was Roy Ford, who showed him how to tong for oysters. By now Paolisso has gone out with a half-dozen watermen or more, oystering, crabbing - often helping at the culling board to separate the oysters and crabs they can keep from the ones they have to throw back.
"At first David Horseman was hesitant to speak with me," Paolisso says. "It took four or five phone calls." Then Horseman and his wife Linda invited him over, and they sat around the dining room table and talked. "It was a great talk," he says, "that covered a wide range of issues. Since then there have been many wonderful talks and dinners around that same table."
In the end, Paolisso says, he found not only a cultural model, but a group of hard-working people, generous of spirit, who took him into their confidence and taught him a lot about what it means to live and work in step with the unpredictable rhythms of the Chesapeake Bay.